Fun & Flirty: Our Favorite Fairycore Puff Dresses

Flirty and feminine, these puff dresses will bring out your inner fairy. Whether you're meeting up with friends for a late night dinner or heading to a summer wedding, these dresses will suit any occasion. Featuring floral prints and pastel colors, they'll give you the perfect look for any event. Get ready to sparkle in this lovely array of puff dresses and be prepared to feel like a proper princess.
What is a puff dress
?
A puff dress is a dress that has puffed sleeves, typically worn to formal events. They are often made of chiffon, lace, or tulle and can be either sleeveless or short-sleeved. The puff dress is very popular in the summertime for its light, airy fabric.
 
Why you should wear a puff dress?
If you're not familiar with the term, a puff dress is a type of skirt that has an extra layer of fabric that puffs out. Puff dresses are perfect for any event because they're fun and flirty. And if you don't like to wear skirts, they can also be worn as short dresses.
Puff skirts are versatile. They can be paired with almost any top or blouse for a chic look—from cropped tops to peasant blouses. You can wear them at work or play and have a lot of fun in the process.
You might be wondering why you should buy a puff dress in particular? Well, there are many reasons! But here are three major reasons:
- They offer a feminine touch: Puff skirts offer something different from your average pencil skirt or skinny jeans. They give off a more feminine vibe that brings out your inner ballerina or princess.
- They're comfortable: You'll feel light and airy when you wear them—and not constrained like in some other types of skirts. In addition to being comfortable, they're also lightweight so they won't add bulk to your frame.
Our favorite fairycore puffs
The sweetest way to feel like a princess every day, these puff dresses are perfect for any occasion.
So, if you've been looking for an effortless way to feel like a princess every day, these puff dresses are the answer. We've gathered our favorites for your convenience so that you can find the perfect dress in no time at all. From intricate lace detailing to beautiful floral prints, we've got everything you need to dress up and feel great.
Whether you're heading out for dinner with friends or just need something to wear to work during the weekdays, these puff dresses will become your favorite go-to outfits.
What's more? No matter what size you are or what style you prefer, we've got the right puffs waiting for you (no worries). Whether you want something flirty and feminine or carefree and casual, there is a puff dress out there for everyone.
 
What to wear with a puff dress
?
Puff dresses are the perfect mix of feminine and flirty. From cocktail parties to weddings, they'll make you feel like royalty. But what to wear with a puff dress?
Feel free to go all out with your accessories when wearing a puff dress. This is the time to experiment with color and accessorize in any way that makes you feel fabulous. You can also take an alternative approach and dress down your puff dress with some simple black flats or sandals. Whatever you choose, have fun experimenting with different looks!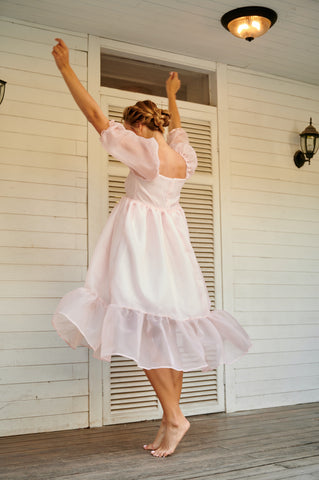 Leave a comment